The maternity industry, like many others, is a cash cow (no pun intended). Slap a maternity label on something and you can be sure you'll get an ad for it during your 9 months of pregnancy. Everything from maternity tees to maternity underwear to maternity shoes – if you use it pre-pregnancy, someone somewhere has made a maternity version. But what items do you actually need and what items can you skip and save money on. I wanted to make this list because as a first time mom, I was completely overwhelmed at all of the options at first. It felt like I had so much to buy to prepare for pregnancy and beyond and it made me anxious seeing all the money I would have to spend to be comfortable. But luckily, this is not the case. There are really only a handful of items, in my experience, that you should absolutely buy for pregnancy. Please note that this is from my own personal experience, and it may be different for everyone depending on your pregnancy. Please also note that I am not compensated for any of my opinions shared here. These are all my own opinions based on my own purchases and experiences.
Belly Bands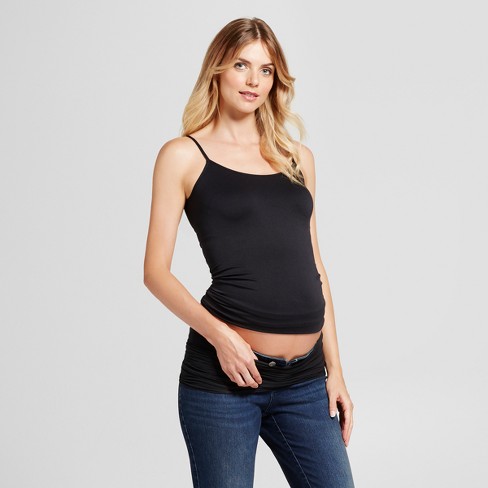 One of the first items I suggest buying within the first couple months of pregnancy are a couple belly bands. I bought a black one and a white one which worked perfectly for my wardrobe, but you can also find them in nude and other colors. What is a belly band? It's basically a stretchy tube of fabric that makes it so that you can wear your pre-pregnancy bottoms during pregnancy. This is awesome because maternity clothes are not cheap, especially when you consider the short amount of time you'll get to wear them. These belly bands have made it so that I can wear my favorite jeans, shorts and skirts over my bump and have saved me so much money. You simply wear your pre-pregnancy bottoms unbuttoned and slide the band over the top. The band hides the opening of your bottoms while also smoothing the creasing of the opening. The brand that I found to work best and be most cost effective is the Isabel and Ingrid Bellaband. They have a sticky plastic border on one end that helps hold the band in place, and they can be worn up over your belly or folded down. Sometimes I even wear these under dresses for a little extra support. They are super comfortable, and at only $17 a piece at your local Target these are a must have for pregnancy. You can find other colors on the Isabel and Ingrid website here.
2. Bra Extenders
If you're like me, you've experienced a little (or ALOT) of growth in the girls during pregnancy. Sometimes this growth can make it feel like your pre-pregnancy bras are trying to squeeze the life out of you – or at least that's what happened to me. My bras still mostly fit cup-wise, but the band around was starting to feel like it was strangling me. Again, I didn't want to go out and buy all new bras for just this occasion so I found these bra extenders on Amazon. These have made it so that I can save my money for nursing bras (because, yep, that's a thing too) and keep on wearing my favorite pre-pregnancy bras throughout my pregnancy. The pack that I bought came with black, white and nude which is perfect for most bra collections and was only $5 for a pack of six – can't beat that!
3. Body Pillow
Sleeping in your new body shape can become a bit of a challenge towards the middle and end of pregnancy. But this doesn't mean you need to go spend hundreds of dollars on a fancy "pregnancy pillow". I found that a simple body pillow worked just fine for me. It was long enough to hold my belly and also to wedge between my legs to give my hips support. It also is the perfect size to have in bed, where as the pregnancy pillows are so huge I'm surprised anyone can sleep with them and still keep their partner in bed with them at the same time. Want something a little fancier but still don't want to take over the entire bed? You can find body pillows that are made of memory foam or higher support materials for less money than a crazy pregnancy pillow. Most major retailers that sell home goods will sell a nice body pillow. Another tip is to make sure whatever cover you buy is appropriate for the weather and that elevated body temperature you might experience while pregnant.
4. Maternity Leggings
Staying active during pregnancy is a must. Whether it's full exercises or walking it's important to have clothing that works for this type of activity. This is where maternity leggings come in. In a pinch I've found that I can wear my pre-pregnancy leggings folded under my bump, but there's something so comfortable about having a nice supportive pair of over the belly leggings that just makes exercising easier on your pregnant body – bonus points if they have a little compression to help with blood flow. Keep in mind though, not all maternity leggings are created equal, and this is the one area where you might want to splurge a little bit to make sure you're getting the bang for your buck. I made the mistake of buying cheap maternity leggings and actually ended up buying new leggings and changing in the car while running errands – I hated them that much. They kept falling off and provided no support whatsoever to my growing bump – I digress. My favorites during pregnancy have been the Blanqi Everyday Maternity Belly Support leggings, which are super ultra supportive and stay in place all day. These are a bit more compressing feeling so if you don't like tight then they might not be for you. They have sales regularly and will often sell out so make sure you follow them on social media or check their website regularly for deals. I just ordered another maternity legging from them in another style and got two pairs for under $50 which is a major steal. They make these in a wide range of colors which is also fun and makes it so that you feel like you can still be fashionable. My other favorite leggings are from Ingrid and Isabel and come from Target – the Maternity Crossover Panel Active leggings. These are actually the ones I bought and changed into in the parking lot! I love the lower cut back on these for our hot California weather and the material is super soft and breathable making them super comfortable to wear all day long. Both brands make bike shorts as well that I highly recommend if you are pregnant during warmer weather. Having comfortable active wear is great for staying on track with exercising, but it's also nice to have clothing that is similar to what I wore pre-pregnancy (2020 basically changed my entire wardrobe into active wear). Leggings and bike shorts are also great for later in pregnancy when everything feels too tight but you also want to look cute. You can pair them with almost anything and not feel like you're wearing pajamas. (Here's a $20 credit for Blanqi for anyone who might be interested: http://fbuy.me/q6Mp_)
5. Reusable Water Bottle
If you don't already have a reusable water bottle (or two!), pregnancy is a great time to invest in one. Staying hydrated during pregnancy is one of the best ways to avoid aches and pains, curb morning sickness, keep your skin soft and overall improve your health. I have a few different options depending on whether I'm on the go or at home. My home bottle has a stainless steel straw which is super nice for lounging around the house. I also have an on-the-go hydroflask style bottle that seals completely so I can throw it in my bag and it keeps my water nice and cool especially if I add a few ice cubes. Reusable water bottles are also just a great item to have in general and will keep you happy and hydrated throughout pregnancy and beyond. There are so many different options these days available at most retailers. Bonus is that you can customize most of them with fun stickers if you want something a bit more personalized.
I hope this list is helpful for all you first-time mommas out there like me. The world of maternity shopping can feel so overwhelming and it's tough to know if you need to go out and purchase all brand new items to make life easier. I'd definitely skip certain items like the special underwear, shoes, and heck even the crazy outrageously priced clothes. Stick with what you have for as long as it will work for you, and worst case if you end up needing to spend more money you can always order those items later. Good luck and happy baby growing!