Camping is the perfect dog-friendly vacation. Most times that my husband and I camp we bring our three dogs with us – two weiner dog mixes and a German Shepherd – and each time we feel like we figure out something new that makes us and them more comfortable. It's nice to be able to go on a trip and bring them with us, especially since they are like our children. I love having extra little tricks to make the trips easier and alleviate any stress that might be associated with travelling with dogs, even all three of them.
1. A Secure Safe Space
Tip number one is giving your pup a secure and safe space. Most campsites require that dogs be placed on a leash, but unfortunately not everyone follows the rules. This can make for not only a stressful environment for your dog but also a dangerous one. Your dog could run away, come in contact with other peoples' pets unexpectedly or get into things that could get them into trouble. When we camp, we prefer to have a large pen that the dogs can sit and hang out in. This pen not only keeps them in, but also keeps out the seemingly inevitable wandering stranger dog that may or may not be friendly. Other less secure but still viable options would be some kind of rope or leash tethered to a tree or a heavy table, or keeping them with you on a leash. We find the pen to be the best option because it gives us less to worry about and also keeps them as safe and secure as possible. We purchased two pens similar to the one pictured below and we use them to wrap around the front of our pop-up camper and awning legs to make sure the pen won't fall over. This also gives the dogs the ability to get inside of the camper if they want. You can find these pens at your local pet stores or online. We found that our local feed store was the cheapest option. I firmly believe that dogs are happiest when they feel safe and these pens do just that.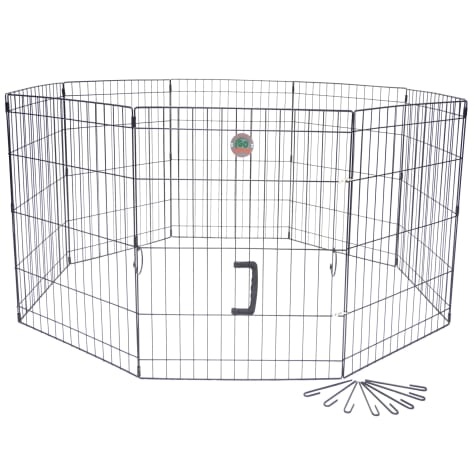 2. Doggie Distractions
Dog pens are a great way to keep your pup comfortable, but it can also get a bit boring if the dogs are locked up in there for a while. There are so many sights and sounds outside of the pen to be explored, but if we were constantly exploring at a dog's pace there wouldn't be much time for other camping activities. This is where doggie distractions come in. Chew toys, greenies and dog blankets are always at the top of my camping packing list to keep our doggies entertained when we want to do something entertaining for ourselves. We love to bring them greenies for their teeth (and our dogs love them too!). The blankets are always nice for the dogs since it makes them feel a bit more at home in their unfamiliar space. If your dog has a favorite toy, bring it along to provide comfort and entertainment!
3. Keeping Calm
Sometimes camping can be stressful. Unfortunately, there can be loud noises in other campsites, dogs off leash that roam into your site or just general happenings that can stress your dog out. Heck, sometimes the car ride alone can make a dog feel less than stellar. We always like to bring a supply of calming treats just in case. More recently it seems that there is a wide variety of calming treats to choose from whether they are CBD, chamomile, lavender or something stronger. We prefer the more holistic approach versus medicinal but sometimes even the herbal remedies aren't enough for some dogs. Of course, be sure to check with your vet about what options might work best for your pup. They're not always needed, but it's definitely a nice thing to have on hand in case you do.
4. Accidents Happen
Just like with anything, accidents can always happen. Someone can get stung by a bee, step on a sharp rock, or just get hurt in general. Our dogs seem to be of a very allergic sort (sniffing all the dirt can give them coughing bouts) and they have a love of chasing and eating bees (which I really wish I could break them of!). In these scary moments, it's always nice to have something on hand to help ease the pain, or the itch, or the worry. Our number one medicine that we bring on camping trips is Benadryl which is safe for dogs in the right dosages (again, talk to your vet before giving your dog something they haven't experienced). Our numbers two item that we bring is hot spot spray. This is because the swimming and the dirt in our German shepherd's long hair can sometimes cause discomfort and it's always best to catch hot spots as soon as possible – not only to heal the spot but to alleviate the itch and discomfort. It's also important to have your basic first aid on hand for your pups – antiseptic for any possible wounds, as well as bandages. Of course if something that happens that is beyond basic first aid, it's best to see your vet.
5. Lots and Lots of Love
I'm sure this goes without saying, but your dog(s) will be so happy that you brought them camping. They get to be with you! And I'm pretty sure that's all the matters to pups. Make sure not to neglect them on your trip and leave them alone for long periods of time while you're off doing other camping things. They're in a strange place and it's scary for most dogs to be in new places without their families (especially if you only have one dog). If you have activities planned that might keep you away from them all day, consider leaving them at home, or if you have other people coming with you, you could ask them to keep your dogs company (if they're not involved in said activities). Overall, dogs just want to be by your side at all times and there's really no point in bringing them if you're just going to ditch them at camp. Of course there are times when you might need to leave them for an hour or two. Make sure to leave plenty of water, shade, and a few of the doggie distractions mentioned earlier. It also might help to give some of those calming treats before you have to head out to try and ensure your dog is as comfortable as possible.
We love bringing our dogs camping and I'm pretty sure they love it too! It's always a great experience to have them with us in the great outdoors and these little tips make the experience even more enjoyable. I hope you find these tips helpful and that you'll consider bringing your furry best bud on your next camping trip!